Compliance is an essential requirement for businesses and enterprises of all shapes and sizes. Effectively managing compliance ensures that your company remains in adherence with all established guidelines of relevance to your specific industry, and geographic location. As compliance continues to become more complicated, smart businesses are looking to leverage automation to streamline their compliance-related tasks and activities and ensure that rigorous and consistent processes are followed.
According to the National Association of Manufacturers (NAM) 88% of surveyed US Firms said that federal regulations are a top challenge to them. Managing disparate and ever-changing global regulations can be even more challenging.
The Compliance Challenge
To ensure compliance, drive timing and resource efficiencies, Compliance Management should be a pre-defined, rigorous, consistent, and ongoing process. To address this challenge, most organizations have historically felt the need to establish an extensive and complex corporate compliance program to help govern policies and compliance.
At a minimum, the steps below are typically required, and are managed manually either by large compliance management teams or by individuals specifically tasked with these responsibilities.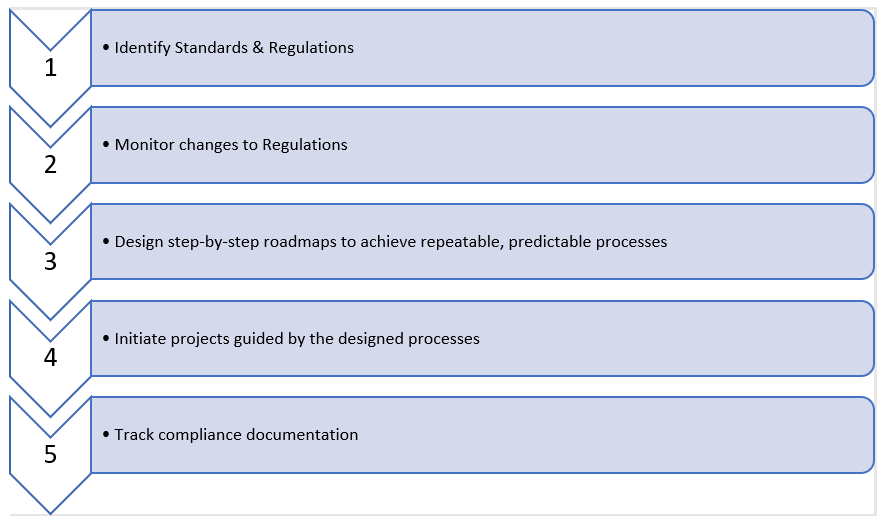 Our Solution: An Automated Compliance Management System
At Infogenic Solutions, we believe that Compliance Management can be greatly streamlined by deploying our highly automated System-Based Compliance process tool.
Automated Compliance Management System Advantages:
Captures regulatory information wherever they are created and ensures accessibility across the organization.
Maps and aggregates emerging requirements to existing policies.
Allocates resources to address issues and track accountability.
Provides real-time tracking to compliance performance.
Simplifies and monitors regulatory changes.
Automates compliance processes.
Provides centralized sources for all regulatory and business requirements.
Tracks all compliance-related activities to legal requirements to avoid penalties.
Provides guidelines for operations and implementation(s) of the organization.
Assigns responsibilities to different people and holds them accountable.
Helps in gathering information for generating accessible real-time reports.
The Automated Compliance System is comprised of five core modules: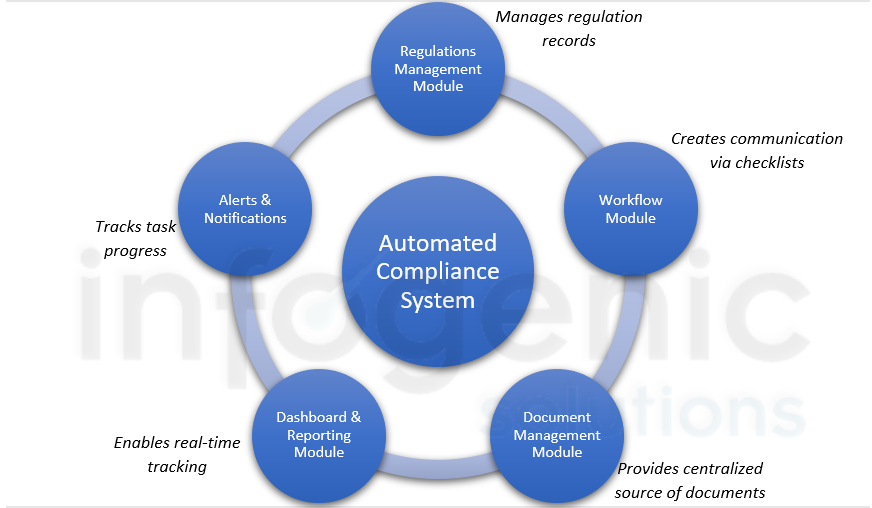 Each Module includes a subset of customizable tools & functionality:
Regulations Management Module:


Document Management Module:

Dashboard & Reporting Module (sample):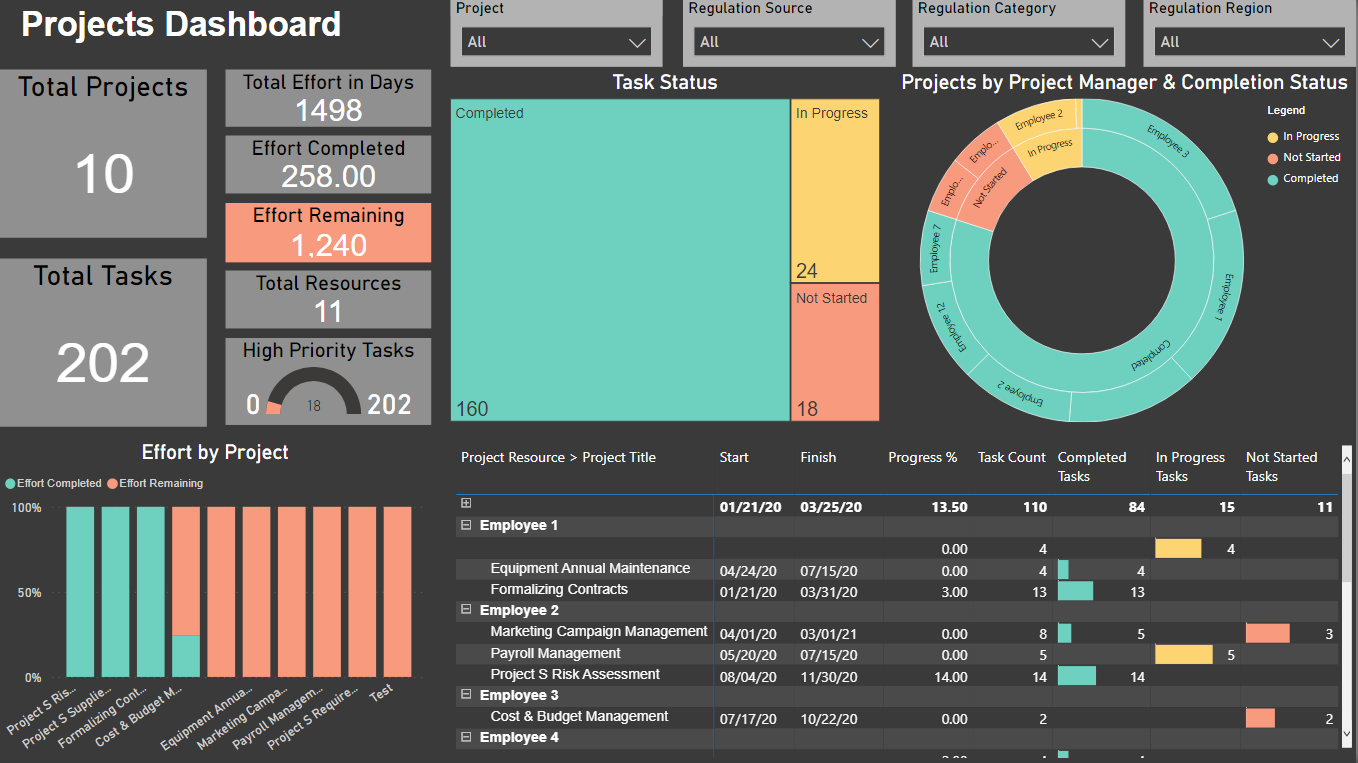 Discovery and Implementation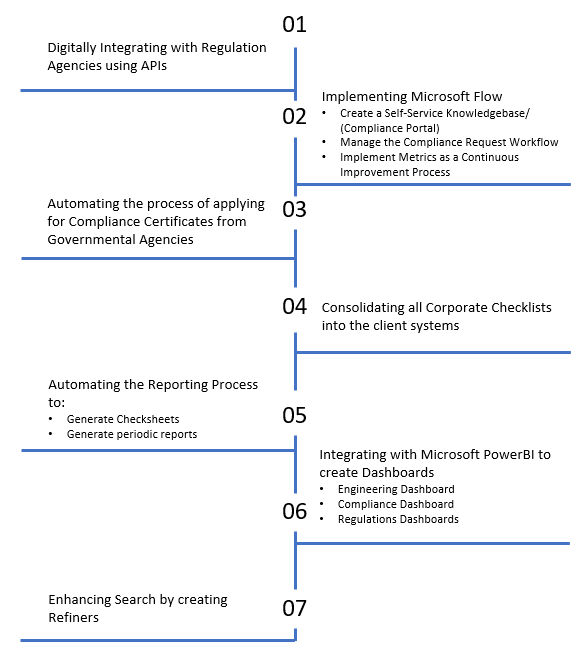 Process, Financial & Efficiency Impact
Ensuring regulatory compliance can add costs, slow down processes, and consume expensive resources. A deployment of the Infogenic Solutions Automated Compliance System drives value by leveraging automation to ensure regulations compliance, delivering speed and resource efficiencies, and enabling companies to focus on driving their core businesses.   Our Process Mapping approach allows us to drive Continuous Improvement which will deliver cost and time efficiencies on an ongoing basis.
In 2018, businesses in the U.S. on average spent $10,000 per employee on regulatory costs. The average compliance cost for organizations across all industries worldwide was $5.47 million.
The Infogenic Solutions Automated Compliance System has been proven to dramatically reduce these costs and drive further efficiencies throughout businesses and enterprises.